The Black Friday planning guide: Tips and tricks for a successful season
Steph Jouppien
November 30, 2021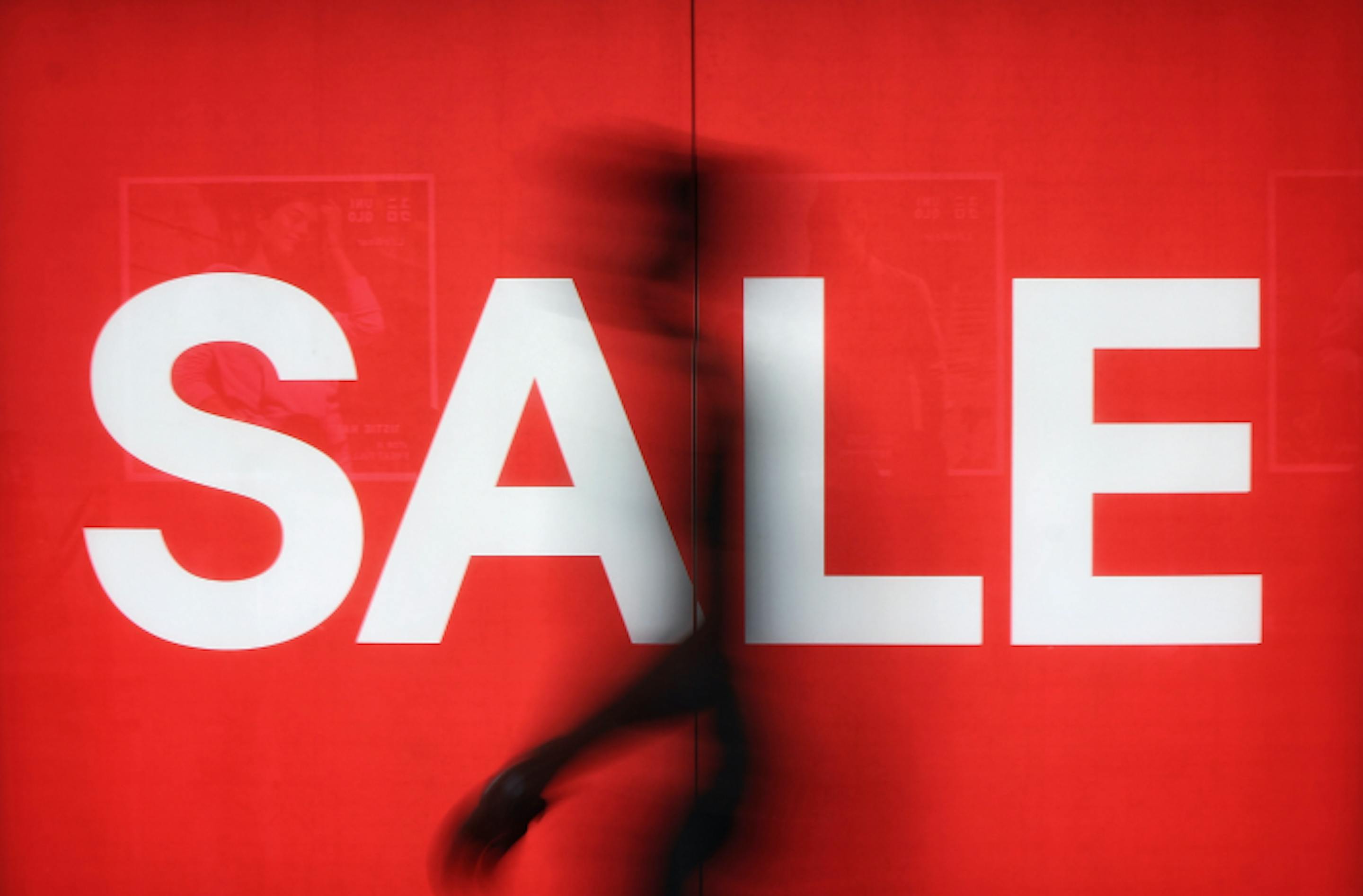 When it comes to Black Friday/Cyber Monday (BFCM), planning is the name of the game. The earlier you start, the better prepared you'll be for any mishaps or pivots along the way. This probably comes as no surprise, especially if this isn't your first Black Friday-Cyber Monday weekend. Starting as early as possible ensures you'll be able to handle any challenge that comes your way during the busy holiday season—even those unexpected ones! 
If this is your first BFCM, your best bet is to treat it as a learning experience: be ambitious while setting realistic expectations, and remember to stay motivated no matter what curveballs come your way. It might feel daunting, but you don't have to go in blind. We've put together a timeline of some Black Friday best practices as you count down towards the big day (or week).
First, let's take a look at last years' BFCM results. 
2020 Black Friday statistics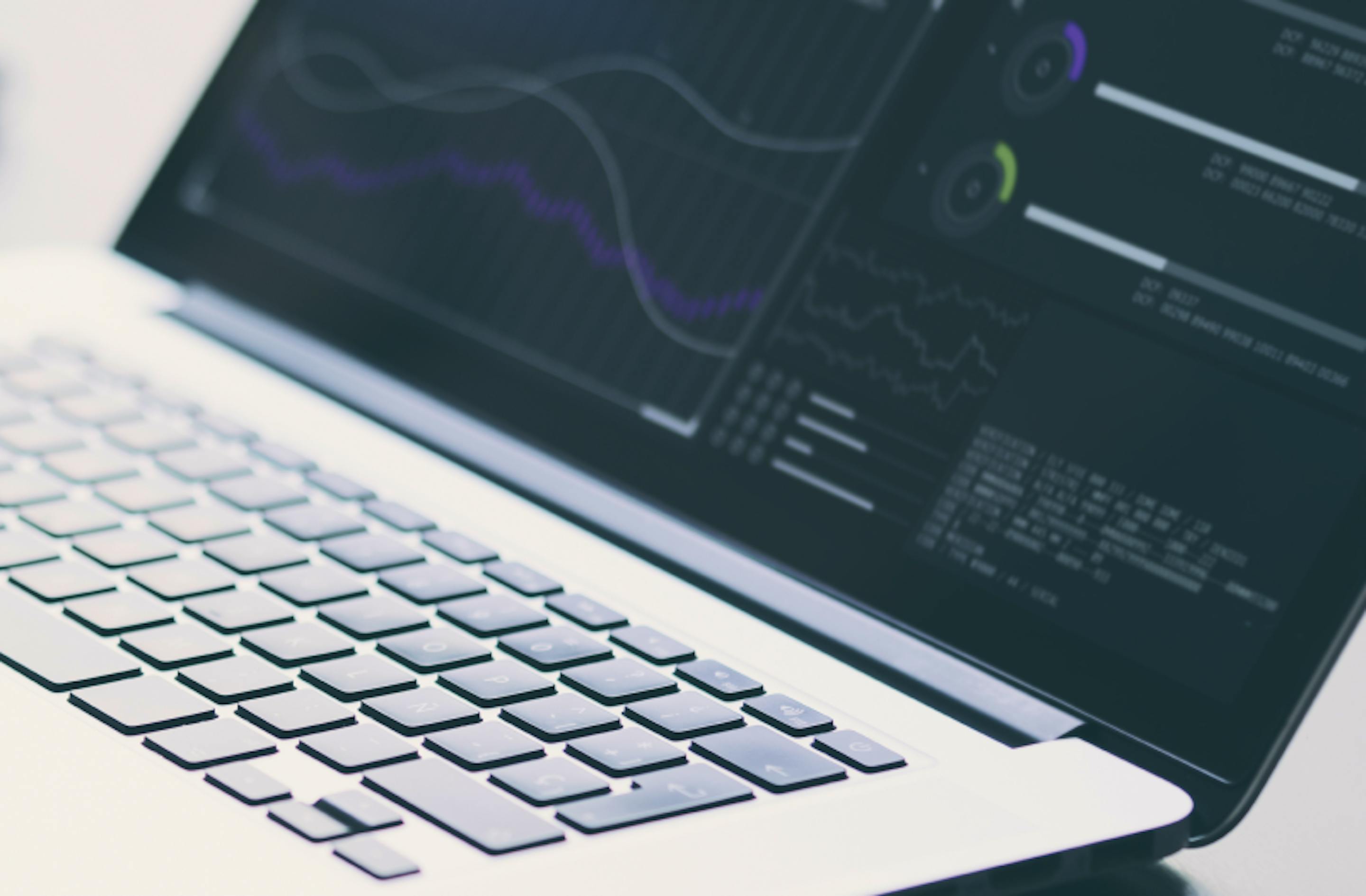 The best Black Friday marketing campaigns and what you can learn from them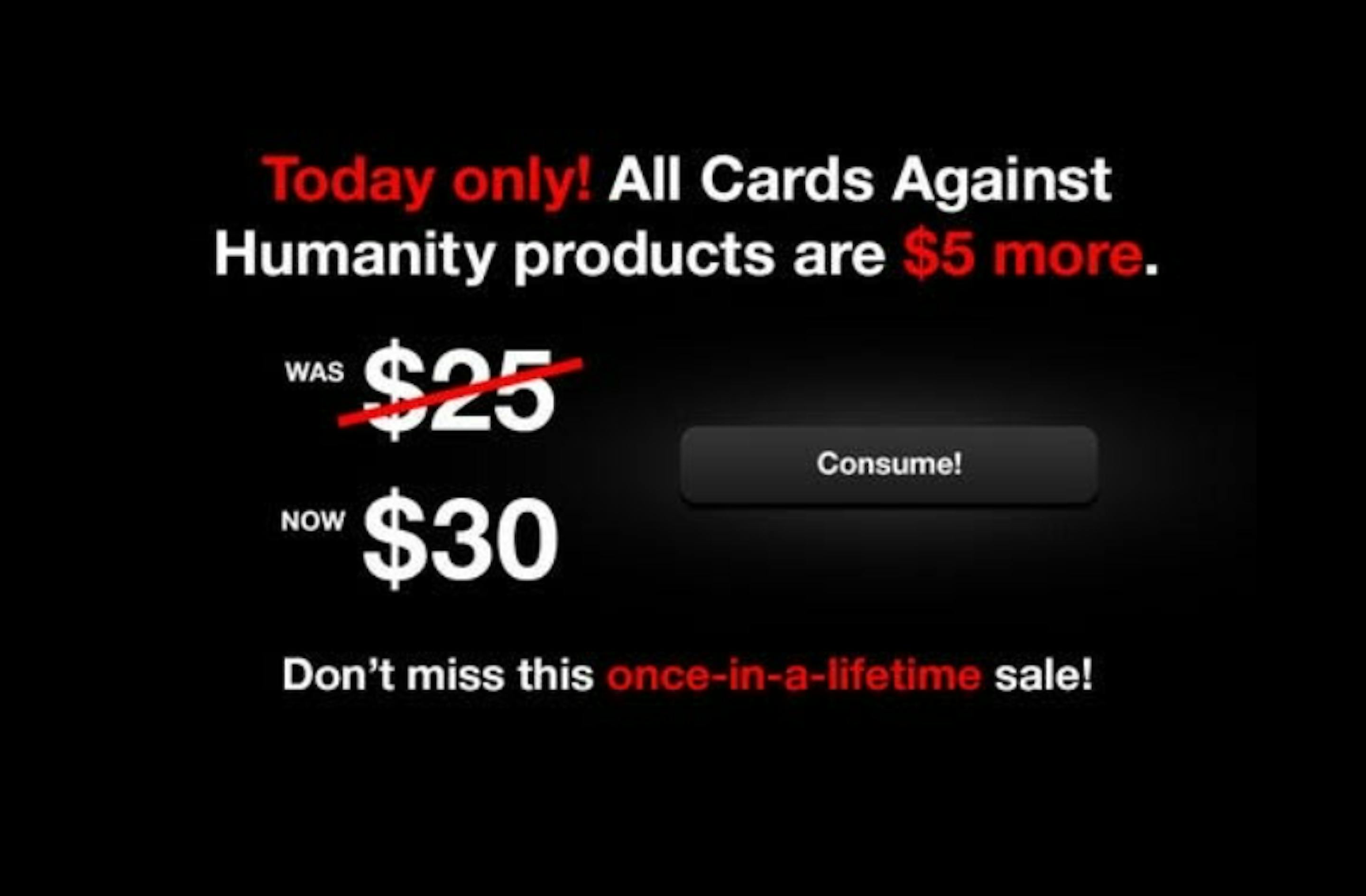 Cards Against Humanity—Everything is $5 more!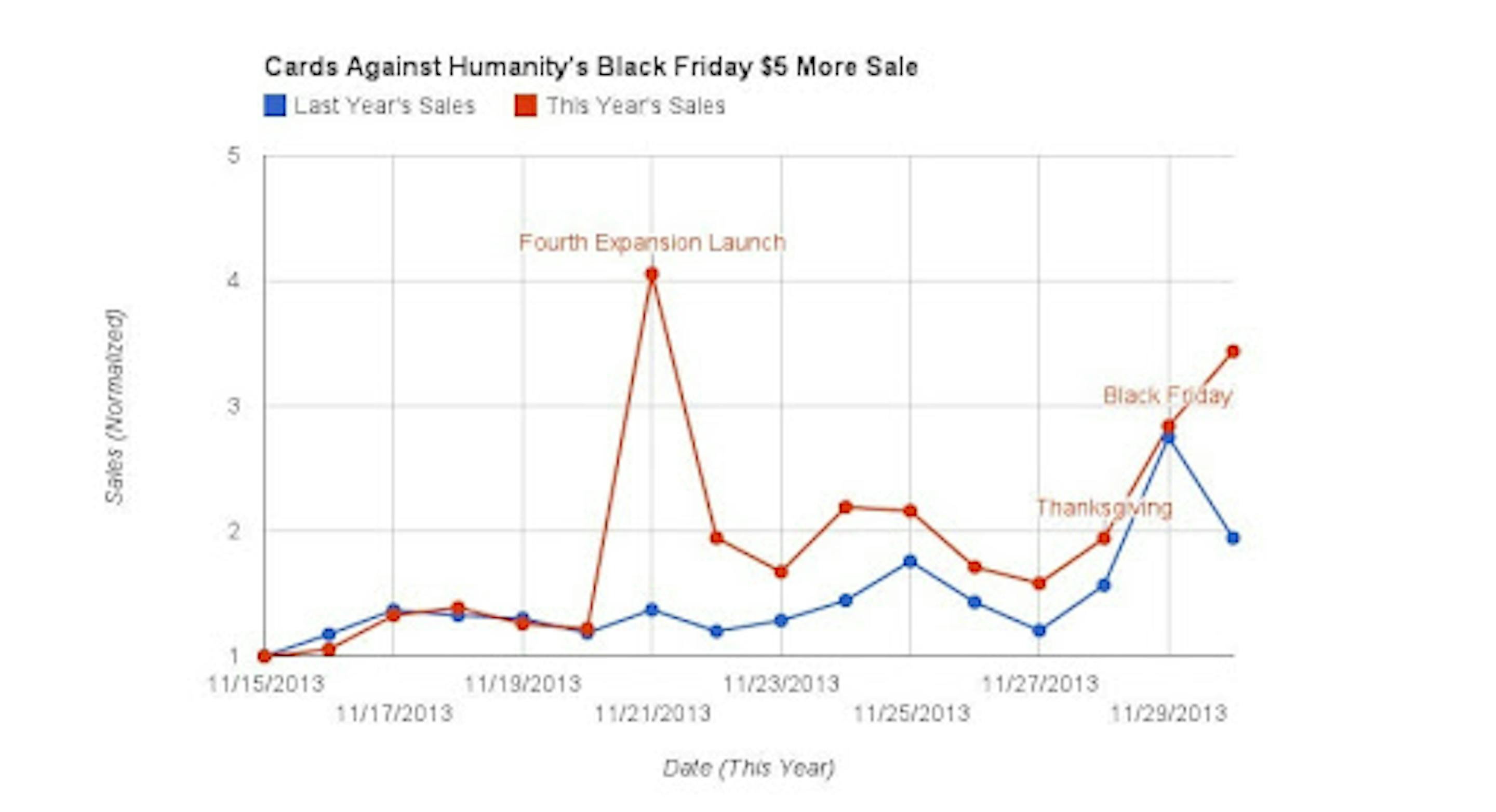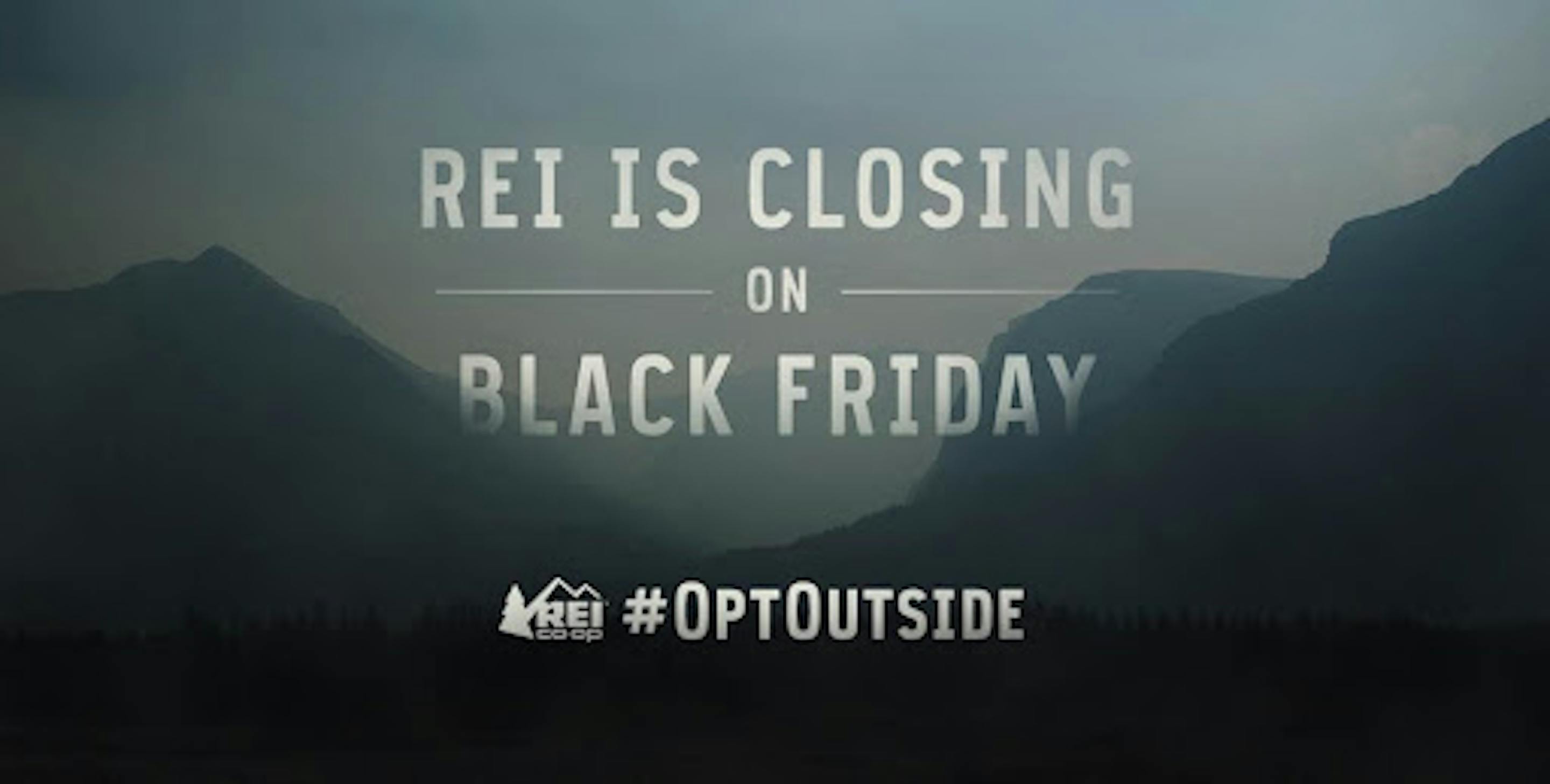 Retailer for lovers of the great outdoors, REI chose to play on opting out of Black Friday (both online and offline). Not only does this groundbreaking campaign encourage action on their brand values—getting outside, loving nature, and committing to sustainability—it's a much needed break for REI employees. 
The award-winning campaign, in an act of retail defiance, was not just a one-off BFCM campaign. REI commits to opting out of Black Friday each year, making #OptOutside a year-round commitment to get outside and active.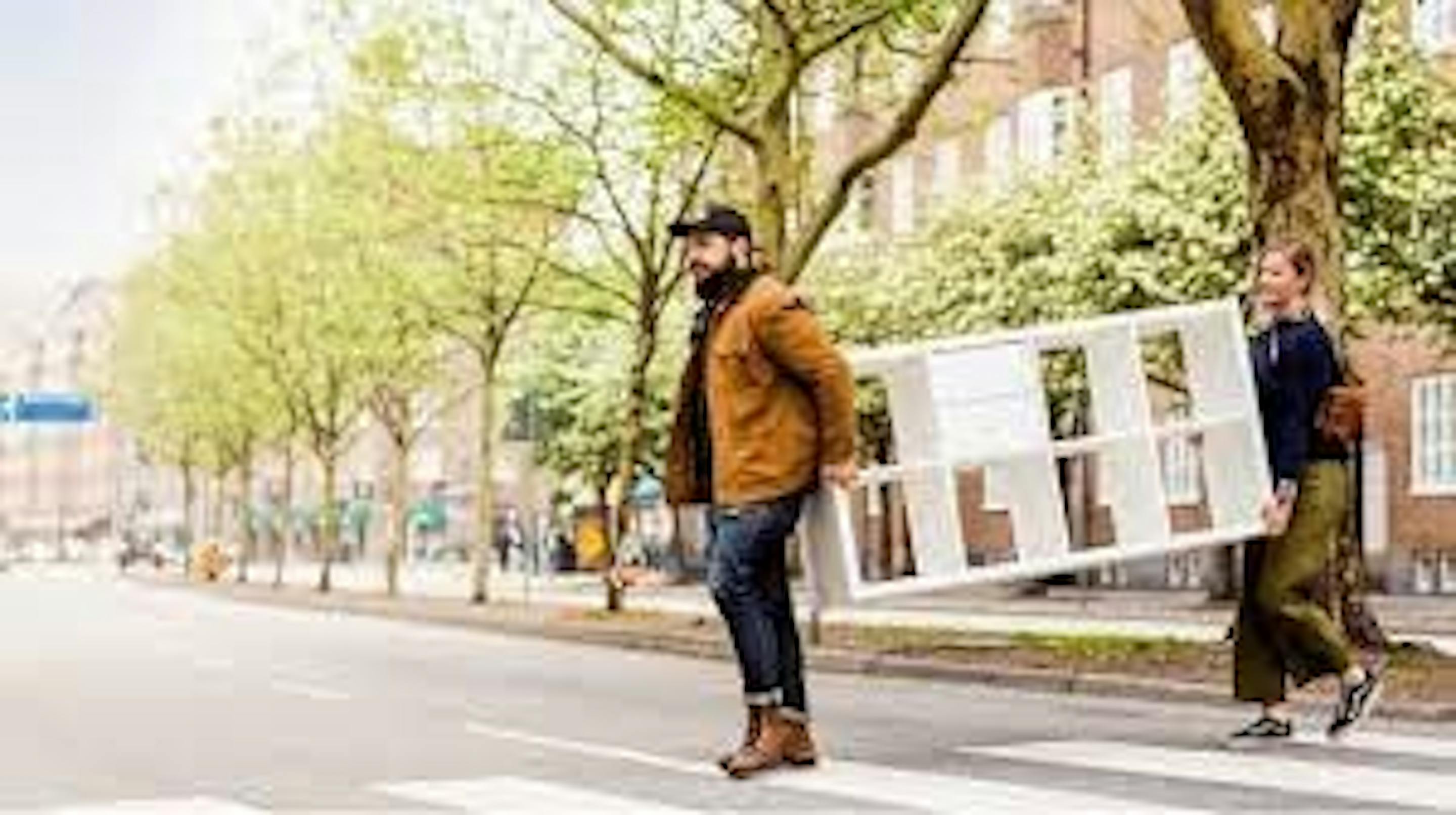 A few years ago, IKEA decided to rename Black Friday to Green Friday. Unknown to most, IKEA has a buy back service in which shoppers can return lightly-used furniture, for cash back or store credit. To raise awareness of its upcycling service, IKEA lets buyers return old furniture in-store to be upcycled, and then get up to 50% back on the item. Where are buyers most likely to spend that 50% rebate? At IKEA, of course!
Best Buy—Black Friday in July
In response to Amazon Prime Day, Best Buy decided to one-up the competition and offer BFCM deals months in advance. To communicate this first-of-its-kind event, Best Buy sent out a good old fashioned press release and special sales flyers. While Amazon is still the king of BFCM, Best Buy created a chain reaction with competitors, who also decided to host online and in-store sales in the hot, summer months. 
Space Camp—Buy now, experience later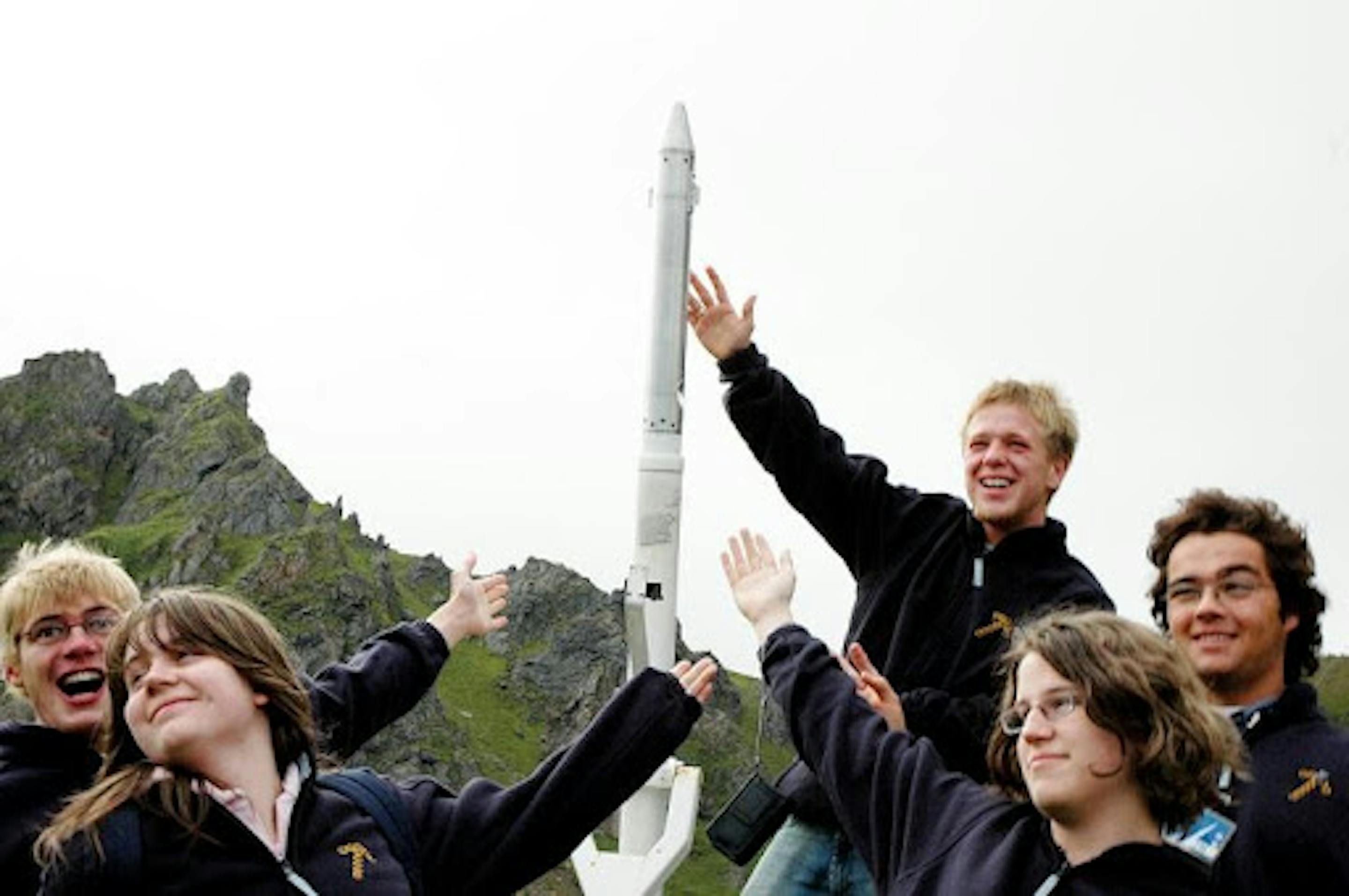 Don't go thinking BFCM is just for retailers—it drives revenue for services, events, and experiences, too! If you aren't familiar with Space Camp, it's a summer camp promoting STEM education for kids. 
The team at Space Camp ran a "Buy Now, Get Later" email promotion, promoting early sign-up for summer camp. If you didn't already know, Space Camp has a long wait-list every year. Not only was Space Camp able to secure future revenue up front, kids had a good six months of excitement as they anticipated their upcoming experience. Now that's rocket science!
Your Black Friday planning guide
Countdown: 1 year before
Like in 2020, brands should expect an earlier, busier, and longer BFCM season. With fewer brick-and-mortar deals, online shopping has become the centrefold to the majority of brands' Cyber Monday strategy. Long lines of shoppers will now be replaced by hours spent researching the best deals online. 
Identify your top sales channels 
Omnichannel selling has been a rapidly growing trend for years now, but it wasn't until the pandemic that brands put this strategy into overdrive. But it's not enough to simply be selling on multiple channels: for brands to win during BFCM, they'll need to identify which channels are the most lucrative for their business. Whether that's Google, Facebook, Pinterest, Amazon, or—most likely—a combination. Keep in mind that certain channels, like Google, tend to have a longer learning curve to discover optimal performance, so you'll want to get started on that as soon as possible. 
Watch the competition
Granted, you should be doing this all-year round, not only during busy seasons. Keeping an eye out for brands in your vertical (particularly in their marketing efforts), will give you a better idea on how you'll measure up to them during seasonal rush periods. Especially if this isn't your first Cyber weekend, you should keep tabs on previous campaigns that garnered a lot of buzz and attention. There are a number of ways to monitor your competition, including:
Subscribing to their email lists and evaluating their campaigns, including how early they send out content for early bird deals.
Visiting their social media channels and paying attention to their high-performing content.
Setting up Google Alerts to see which websites are highlighting your competition.
Evaluate your inventory
Inventory management can be a headache when not done properly during the regular shopping season, but when it's mismanaged during BFCM, it can be disastrous. For that reason, brands should make inventory decisions by forecasting demand as early as possible. This is particularly true for brands that rely on multiple suppliers to source or manufacture inventory. Brands that plan ahead by reviewing their margins will be the ones to come out on top. Inventory financing gives a capital infusion to help buy inventory without affecting other operational financing obligations

Inventory financing can be used to help purchase stock in advance of high-volume sales periods like the holidays or BFCM. While it won't help predict your inventory needs, it will help you prepare for these busier periods of the year to ensure stock arrives at your warehouse in time so your customers don't experience delays. 
Optimize fulfillment workflows
Surges in sales that occur in short periods of time require careful—and early—planning. In order to avoid disruptions in your fulfillment workflows during BFCM, consider:
Ensuring your fulfillment area is optimized. Whether you manage inventory and/or fulfillment in-house or outsource to a warehouse, fulfillment areas can become hectic very quickly. 
Hiring additional fulfillment staff. Hiring decisions don't happen overnight, so make sure you make these decisions well in advance of the busy season.
Systematizing how you prioritize your orders. This includes considering customer priority, shipping requirements, and product type, to name a few.
Countdown: 6 months before
Okay, so you've now reached the halfway mark. You're not scrambling though, because if you're following this guide, you've already been preparing for the past six months! 
Put together a back-up plan
Being prepared means planning for the worst. Ensure you have the proper backups in place in the event that something goes awry, like running into hiccoughs with shipping, fulfillment, or seeing higher demand than expected. Considering last year's supply chain issues resulted in massive delays, brands should not be preparing for if delays occur; they should be preparing for when they occur. Worst-case scenarios aren't pleasant to think about, but when they're avoided as a result of your planning, you'll be pleasantly surprised. 
Set up how you're going to track data
Knowledge is power, and data is king. 
Understanding how previous BFCMs have gone—including the wins and losses—is crucial to a successful BFCM. Many brands leverage Google Analytics, an in-depth analytics tool that allows you to understand your customers better. If you can understand your customers with tools like UTM parameters, you'll be in a better position to give them exactly what they want.
Countdown: 3 months before
Now that you're a few months away from BFCM, the anticipation is starting to grow. At the three-month mark, you should focus on optimizing your e-commerce website so it's not only user- and mobile-friendly, but also so it can handle the surge in traffic and activity. 
Test (and re-test) your server
The last thing you want is to have your website go down. Site crashes can be stressful, leaving you scrambling to troubleshoot instead of focusing on other parts of the business. To make sure your site has the capacity to meet the surge in demand:
Test your online store's server load capacity with a tool like k6 Cloud.
Run speed tests on both your homepage and your highest-traffic collection and product pages. Resources like Google's PageSpeed Insights or GTmetrix can analyze your site's content and generate specific suggestions to improve its speed.
Re-test your site a few times before going live.
Ensure you have a Secure Sockets Layer (SSL) certificate on your website so customers know their data is secure.
Evaluate your checkout process
82% of U.S. BFCM shoppers don't follow through with a purchase and end up abandoning their cart. Consider implementing 1-click buy to your checkout process and an abandoned cart strategy that'll ensure you don't lose out on conversions as a result of a clunky checkout process. 
Assess your site's UX and get feedback
Another conversion killer is a poorly designed user experience (UX). Make sure your site is not only mobile-friendly, but that there aren't any major snags in user experience that would leave a customer with a negative shopping experience. 
One way to achieve this is to have a fresh pair of eyes (or two) to user-test your site. Have a friend crawl through your website and note if they have issues navigating it or not. This could be an indicator your site's navigation is too complicated. You can also take advantage of a tool like UserTesting, which allows a random user to browse your website and give their feedback.

To optimize your site for a seamless customer experience, consider:
Minimizing pop-ups.
Ensuring your buttons are tap-friendly across all devices.
Displaying clear CTAs.
Employing responsive design.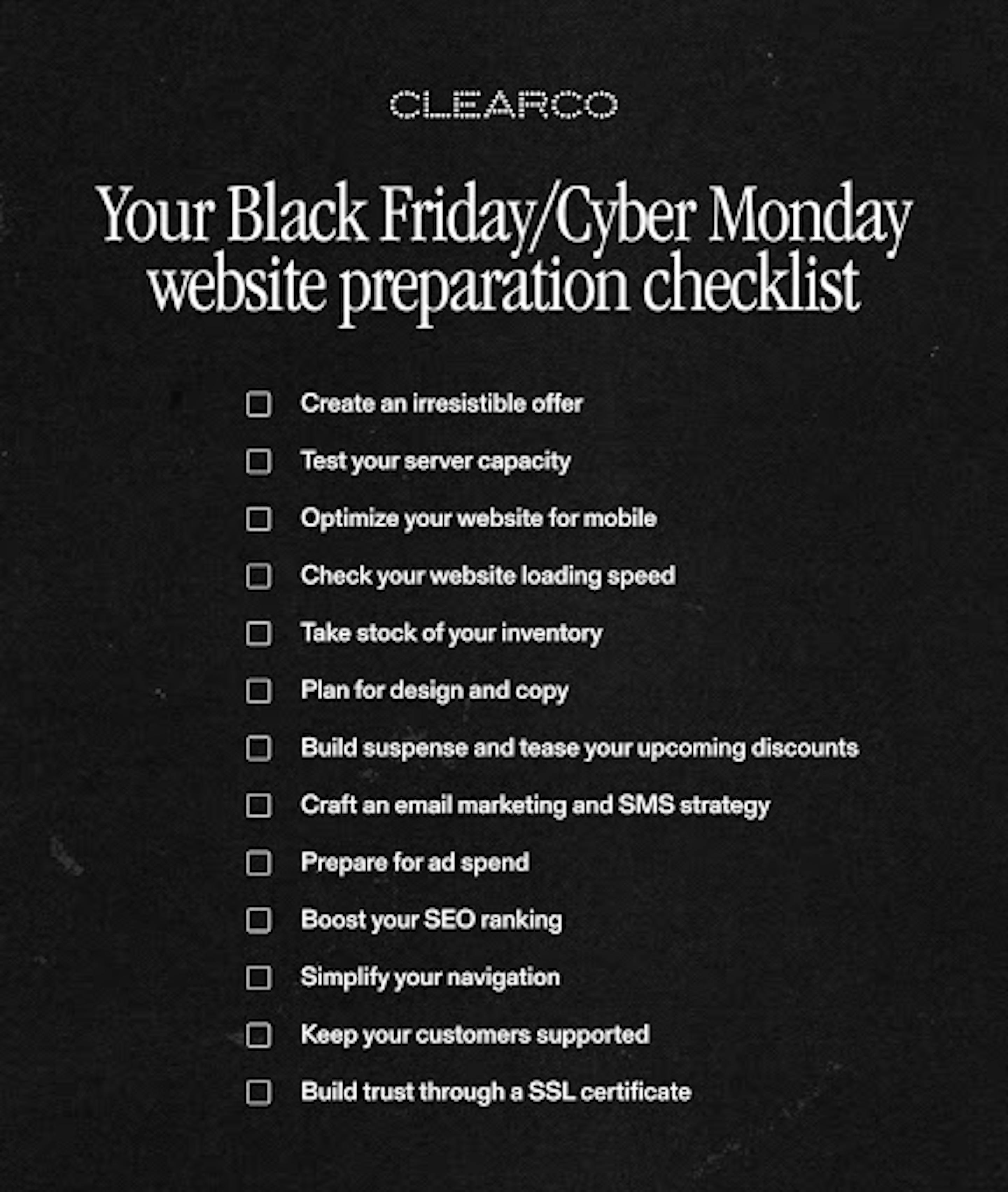 Countdown: 2 months before
Keep in mind that seasonal promotion emails flood prospects' inboxes each year. To cut through the noise, you're going to need an irresistible offer that will make you stand out. So how do you put together an offer your customers won't be able to resist? 
Run a "can't miss" sale in which a popular item is heavily discounted and customers are encouraged to pick up other items on their way to the checkout.
Consider offering product bundles at a discount.
Offer daily, limited-time only deals throughout the BFCM period to increase urgency.
Provide free shipping on all orders 5-10% larger than your average order amount.
Put together gift guides as a Black Friday marketing tool for customers to peruse in advance of BFCM.
Email or text your high-value customers (HVCs) letting them know they get VIP early access to deals.
You'll also need to start considering paid channels at this time, if this is part of your BFCM marketing strategy. Keep in mind ad bids often get more expensive during the competitive holiday seasons, so you may need to reevaluate your spend to increase your bid price on specific keywords or audiences. 
Paid advertising can do wonders for a brand, but it can get expensive, so make sure you've budgeted properly and identified which ad channels your brand does best on.

Prepare your Black Friday ads

Budget and select audiences
With other e-commerce brands vying for buyers' attention, it's not surprising that online ads get more expensive around the holidays. Take the time to revisit the common demographics amongst your target audience and create custom audiences based on their similar traits and buying habits. Advertising on highly competitive platforms is a science and takes a few tries to perfect. If you run ads yourself, start testing and optimizing your ad sets months in advance to identify which ad sets you plan are putting budget behind. If paid advertising isn't your specialty, outsource the work to an agency partner.
Design creative and write copy
Everything a prospect sees in an advertisement should be relevant to them. Organize all ad creative so that it's relevant, timely, and features a clear CTA. Do yourself a favour and create a bunch of design assets in advance, so you can swap out underperforming creatives, for better ones. Be sure to test variations of images, videos, carousels, well ahead of time to see which are most effective for your audience. Run each ad until you have enough impressions to be statistically significant, and find out which format has the highest conversion value. You should also A/B test variations of copy, and nuances within your audience.
Choose an enticing discount
BFCM weekend is about one thing: the discounts. Look at the promotions that have proven most successful for you so far, so you can replicate them for a BFCM campaign. To boost the average order value, set a minimum purchase amount in order to get discounts.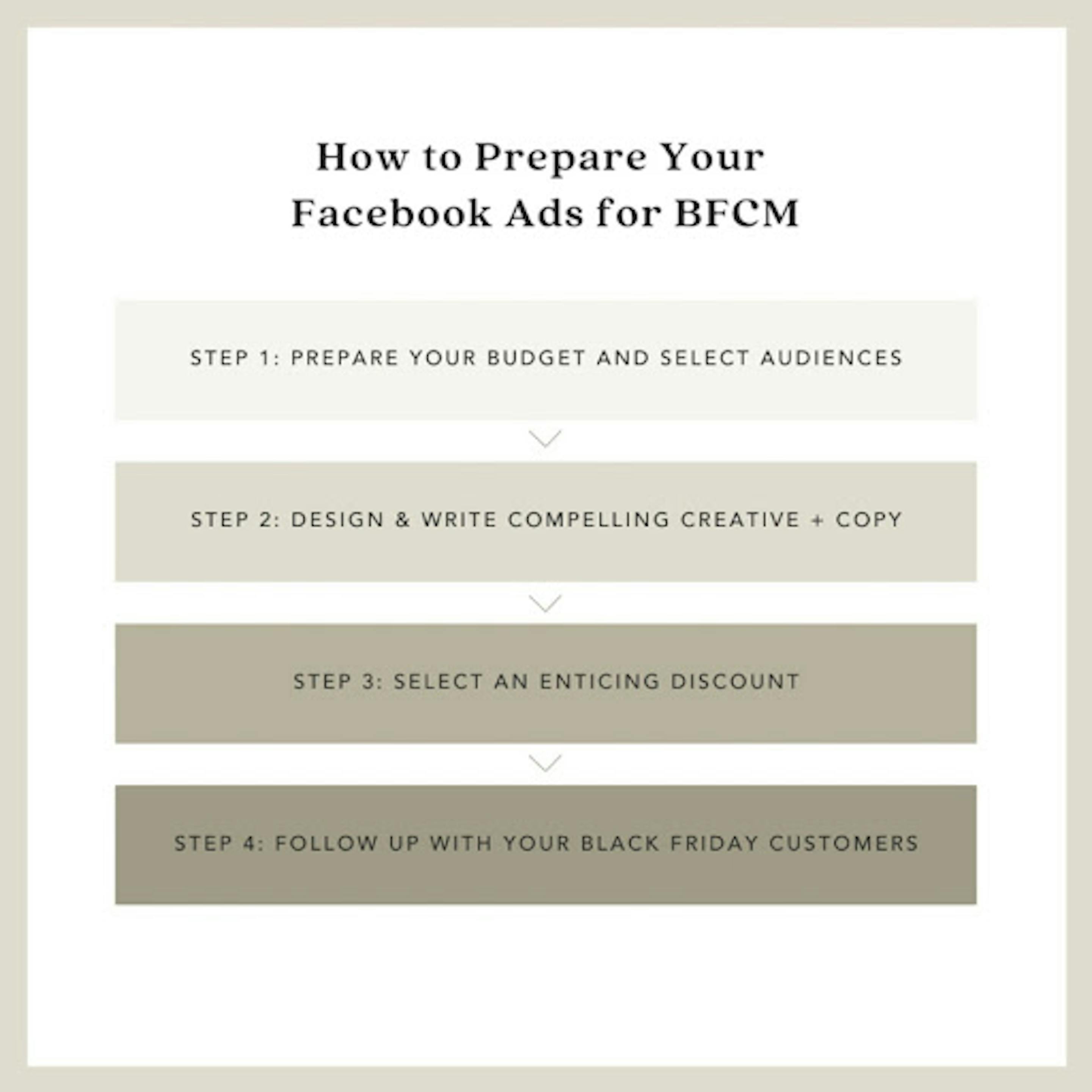 Countdown: 1 month before
Now that you're one month away, you've probably started seeing BFCM in your dreams, right? As you quickly approach the season, and since it will begin earlier compared to past years, it's time to get creative. 
Bring in the graphic designers
Gorgeous visuals are going to end up sealing the deal for many shoppers. After all, we shop with our eyes first! If you don't have an in-house graphic designer, consider hiring a freelancer or even doing it yourself if you've got the design chops. You'll need to create banners, hero images, and product images that promote your BCFM offers, plus imagery for all your content channels like your blog and social media.
Use an early bird email marketing strategy
There's a reason your inbox is flooded during BFCM: it remains one of the channels with the highest conversion rates. You should be creating and scheduling your Black Friday emails longer before the season starts. Here are some ways in which you can win with your BFCM email marketing strategy:
Send warm-up emails in the weeks leading up to BFCM. You can use these emails to drop teasers as to what your upcoming sales are going to be. You could even offer exclusive deals to specific customer segments, such as your loyalty program customers. 
Send thank you emails at the end of the sale. Consider sending an automated thank you email somewhere between five and seven days after BFCM is over. This will remind customers of the positive experience they had with your brand, and is a nice way to let them know about any upcoming, non-BFCM offers. 
Send abandoned cart emails. Don't lose out on conversions with visitors who abandon their carts. You can set up targeted, automatically triggered emails to help capture some of those abandoned cart shoppers. 
Black Friday countdown: 3 weeks before
Hooray! You've reached the point in time to build suspense about your BFCM offers. Buzz is what turns a good BFCM campaign into a great one. With most of the preparation and planning behind you, it's time to up your social media game by posting sneak peaks that will pique your customers' interest. 
Consider leveraging influencers, content creators, and other grassroots channels to promote your sales. At this point, you'll want to focus on building on the momentum from the last two months. You've worked hard on the campaign—don't let it fizzle out when you're so close to the finish line. 
Countdown: 1 week before
Launch a countdown campaign. A strong buzz-building campaign can bring existing and potential customers to your online store. Use your social media and newsletter platforms to share sneak peeks of your deals, host a countdown, and drive newsletter signups.
Black Friday marketing tips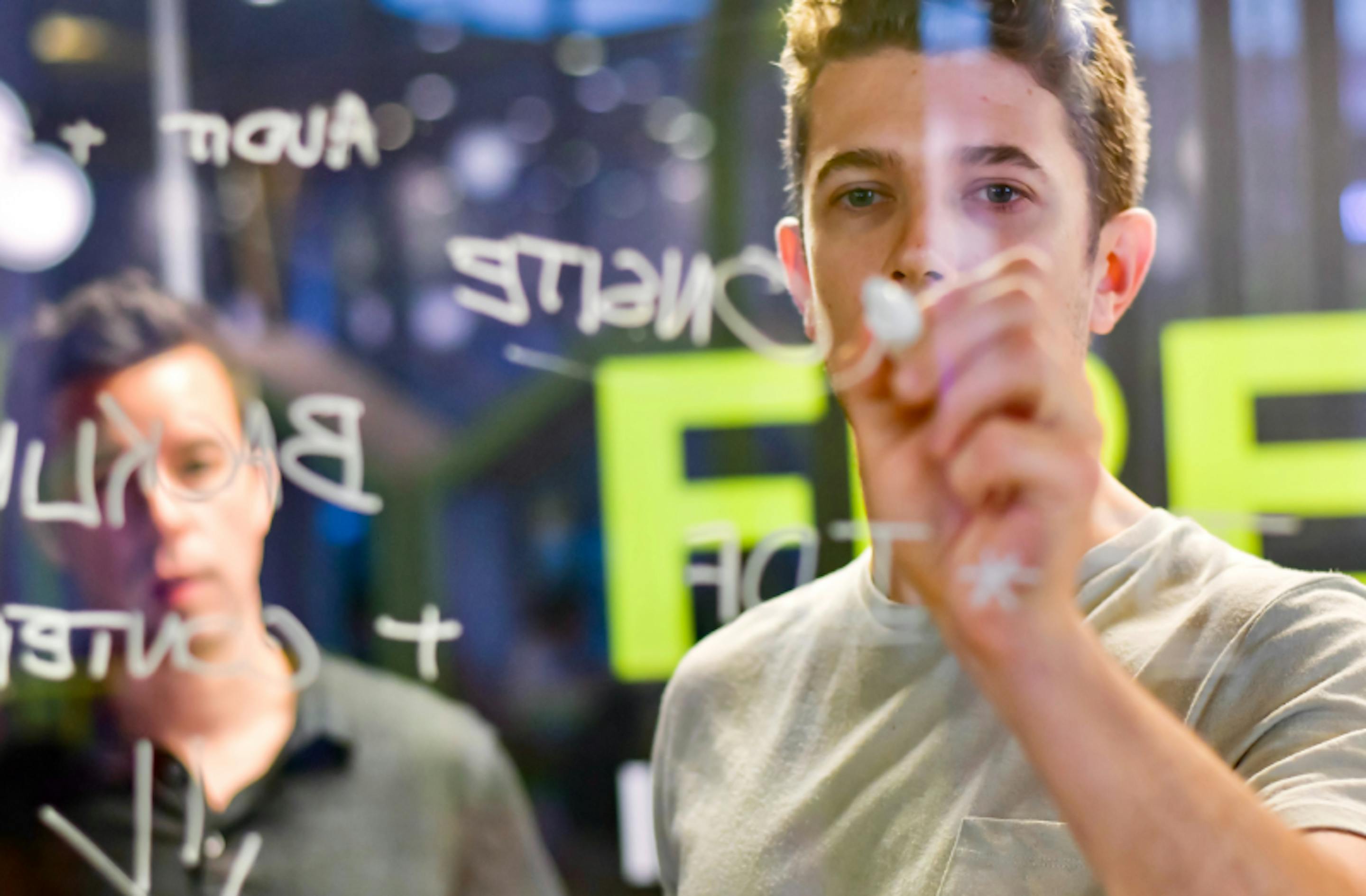 As important as it is to adequately prepare for the holiday season, it's equally as important to avoid common (but not always obvious) pitfalls. These include:
Assuming your website is ready for the holiday traffic surge
Waiting too long to plan your merchandising and promotions 
Customer acquisition and retention plans aren't properly prepared 
Failing to secure a reliable fulfillment solution
Prepare your website is ready for the holiday surge
Tip #1: QA your online catalogues, pixels, and Facebook conversion events. Ensure catalogues are clean, passing correctly to Google and Facebook on their shopping ads, and when shared as a preview. They should be properly (and accurately) displayed as 'in stock' or 'out of stock'. 
Tip #2: Align promotions with inventory demand and supply. Assess your inventory, past sales trends, profit margins, and merchandising strategy to inform promotions and inventory demand forecasts—at least 2 months in advance of BFCM.
Tip #3: Reinforce your offers and their end dates throughout the site and at each stage of the checkout process to add an element of urgency.  
Tip #4: Prepare your team. This might sound like an obvious one, but it's often overlooked. Set site notification alerts to make all teams aware of any website issues. Build out a communication plan: this will help avoid wasting ad dollars and customer frustration while you address the issues.  
Tip #5: Remove friction from purchases. Implement 1-click pay across your e-commerce platform, so orders can be made with just one click. 
Don't wait too long to plan your merchandising and promotions
Tip #1: Make sure you're search ready ahead of time. In the weeks leading up to BFCM, ensure new and holiday pages are updated for relevant page titles and meta descriptions for SEO. Amazon sellers should work on SEO on both their Amazon product pages, as well as Amazon search. 

Tip #2: Increase social discovery. Social media costs surge during the holidays by as much as 25%, and even more so leading into BFCM. These costs, however, are usually offset by average order values and higher conversion rates. Start Black Friday advertising early to generate interest and familiarity with your brand, leveraging gift guides, sneak peaks, and other marketing tools. Driving consumers to your site early will help build retargeting pools for BFCM promotions and feed algorithms for your conversion optimized campaigns, as long as pixels are installed. Remember to focus your search engine marketing (SEM) and PPC advertising by targeting high purchase intent keywords like "buy _ _ _ _ _ _ ", "best deal on _ _ _ _ _ _", and product-specific searches like "men's flannel pyjamas".

Tip #3: Prep affiliates and influencers. You should be cultivating and growing your creator and influencer lists year-round. Create an outreach campaign to notify your partner network of upcoming promotions, pitch key products, and provide eye-catching banners and holiday-inspired photo spreads for them to feature or review.

Tip #4: Create holiday gifting landing pages. Plan and curate special holiday landing pages and blog posts with gifting and search in mind, like 'Best Gifts for outdoor/cooking/tech enthusiasts' and 'Gifts under $25/$50/$100'.  

Tip #5: Check your ad account balances. Make sure your affiliate platform, Google, and Facebook balances and credit limits are ready to scale for BFCM. Need more funding, apply here.

Tip #6: Support a cause to stand out. Brands can differentiate themselves by offering charitable donations on purchases instead of just promotions. Even offering a 1% donation to a cause that you and your customers care about, can improve conversions, AOV, and retention. 71% of Millennials will pay more for something if they know that some of the proceeds will benefit charity. 

Tip #7: Woo your most loyal fans. Define, identify and target your HVCs (high value customers); the customers who purchase frequently from your store and spend a lot of money. Identify the HVCs that are both active and inactive (churned or lapsed) and then push their contact info into your marketing channels. Segment all the HVCs that have lapsed—or are at risk of lapsing—and make a compelling offer to encourage them to make another purchase. These customers are too profitable to lose.

Tip #8: Extend promotions past BFCM. Layer in multiple promotions leading into and out of BFCM main events to maximize sales and stay competitive. Offer customers deals they can't get any other time of year. Consider 'buy more, save more' discounts and custom bundles to bump up average order values. In 2020, Cart.com saw average discounts leading into BFCM average around 20% in value, rising to 37% over the holiday weekend. Allow loyal customers, who've spent lots of time and money on your brand, early access to your deals.
Prepare your customer acquisition and retention plans 
Tip #1: Collect email and SMS sign-ups year-round. These channels are the most effective for converting customers, especially during the holidays. Consistently test offers and tactics throughout the year to grow your subscriber lists all year. While you don't have to start sending SMS messages today, growing your subscriber list now will put you in the best position to capitalize on pre-holiday spending. 


Tip #2: Segment email and SMS audiences to maximize conversions. Create VIP lists of your highest value purchasers and offer them a bigger discount, early promotion access, or an exclusive extended-day sale. Create promotion reminder email lists for non-openers to stay at the top of their inboxes, as well as "last chance" emails for non-purchasers.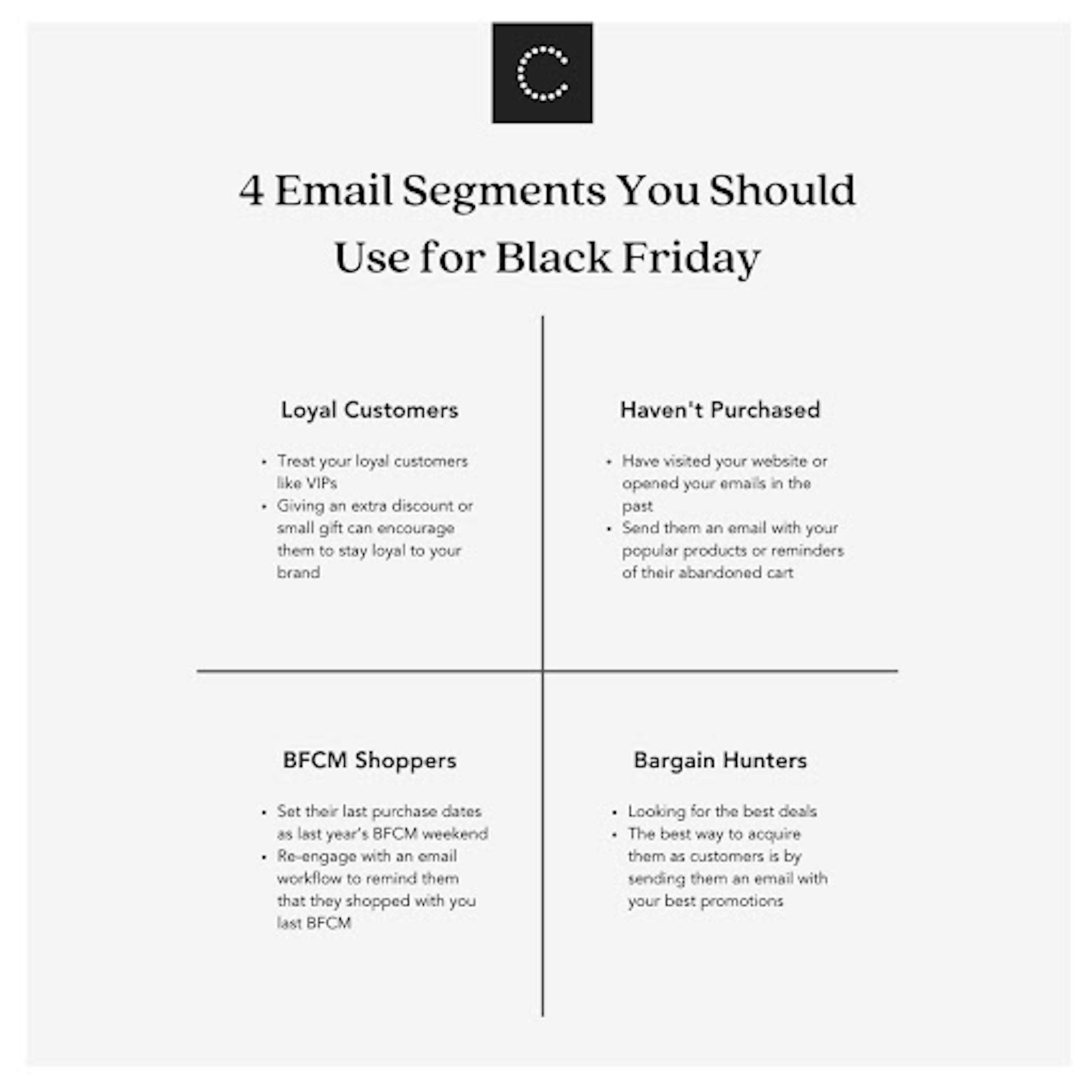 Tip #3: Rescue abandoned carts by any means. And we mean it when we say any means! Set up a drip email series and show abandoners items they've left in their cart, reinforcing urgency with timed promotions and end dates. Create abandoned cart remarketing segments in your advertising platforms to serve dynamic ads showing abandoned products.  

Tip #4: Look for places to deliver a great customer experience—from marketing to technology updates to offering alternative payment options that make purchases affordable.

Tip #5: Automate what you can. Create an omnichannel experience with phone, SMS, email, live chat (chatbots), and social. Set up rules to trigger tickets based on what customers are asking, integrate with your e-commerce platform and other apps, and provide analytics reports. Second, leverage automation and machine learning to handle repetitive tasks like ticket assignment. This will help to increase performance on customer support, as it helps to drive the workflow. Add some self-serve options to your site. Having customers find their own answers to questions is a huge time saver. Finally, make sure your workflow is up to speed. Setting rules in your help desk can help to automatically direct tickets or respond to customer requests.
Have a reliable fulfillment solution 
Tip #1: Engage a third party logistics (3PL) partner. 3PLs, like Cart.com, are equipped to handle holiday rush periods for your direct-to-consumer, Amazon FBA, and B2B businesses. Not only will they save you time and warehouse space, their strategically distributed warehouses, data centers, and negotiated shipping rates help you stay competitive by offering lower shipping costs and faster delivery windows. 

Tip #2: Forecast demand and plan for delays. Assess your SKU level history and share predicted order volume with suppliers to make sure you order enough to avoid potential shipping delays and stockouts. 

Tip #3: Ensure you can meet shipping deadlines and stay up-to-date on carrier surcharges. Carriers are continuing to modify their service level agreements and cut-off dates, and often apply holiday surcharges. Communicate cut-off dates to consumers on-site and with order confirmation emails. Check with your preferred carrier frequently to monitor changes.

Tip #4: Stock up on shipping, packaging, and printed labels. Running out of materials like this can put a wrench in your supply chain. Avoid running out by stocking up early.

Tip #5: Evaluate your return policy. Make sure to have a return process that is clearly communicated across your website. If you partner with a 3PL, work with them to solidify an efficient returns management process, including return shipping labels and tracking information.

Tip #6: Use return automation software to retain revenue via an exchange-first platform. In the period after BFCM until around mid-January, returns increased an average of 31% for DTC e-commerce brands. Having an exchange policy in place can help you retain customers longer.
Black Friday customer retention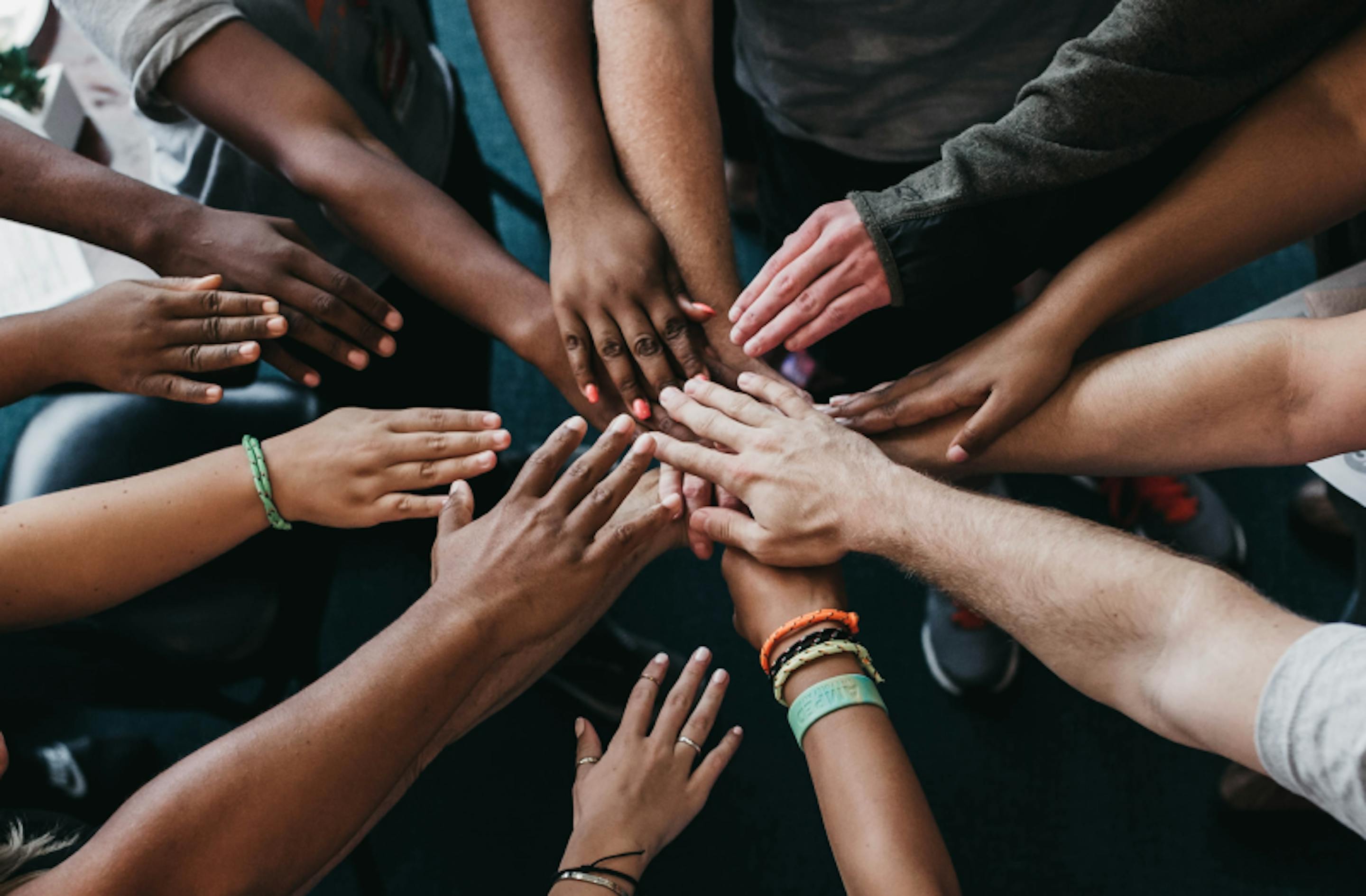 While you may experience an influx of shoppers during BFCM, the real challenge is converting one-time buyers into long-term, loyal customers. For 64% of businesses, any customers acquired during BFCM have a lower lifetime value than shoppers acquired at any other time. So how can you improve your customer retention and build a loyal customer base?
Loyalty Programs
If you've ever used a loyalty program from a company like Starbucks, you'll know that when executed properly, they work. Today, the average consumer belongs to 14.8 loyalty programs and actively participates in 6.7 of them.
One of the best ways to implement a loyalty program is by setting up a rewards system for your customers. 50% of consumers say their primary reason for joining a loyalty program is to earn rewards on their purchases, and this keeps them coming back. Ensure that rewards are attainable and have value for your customers.
After the holiday season, one way to increase retention and incentivize customers to return is by hosting a week with double or triple the points during your slow season. This will encourage loyalty program members to visit your website when they may not be normally inclined to.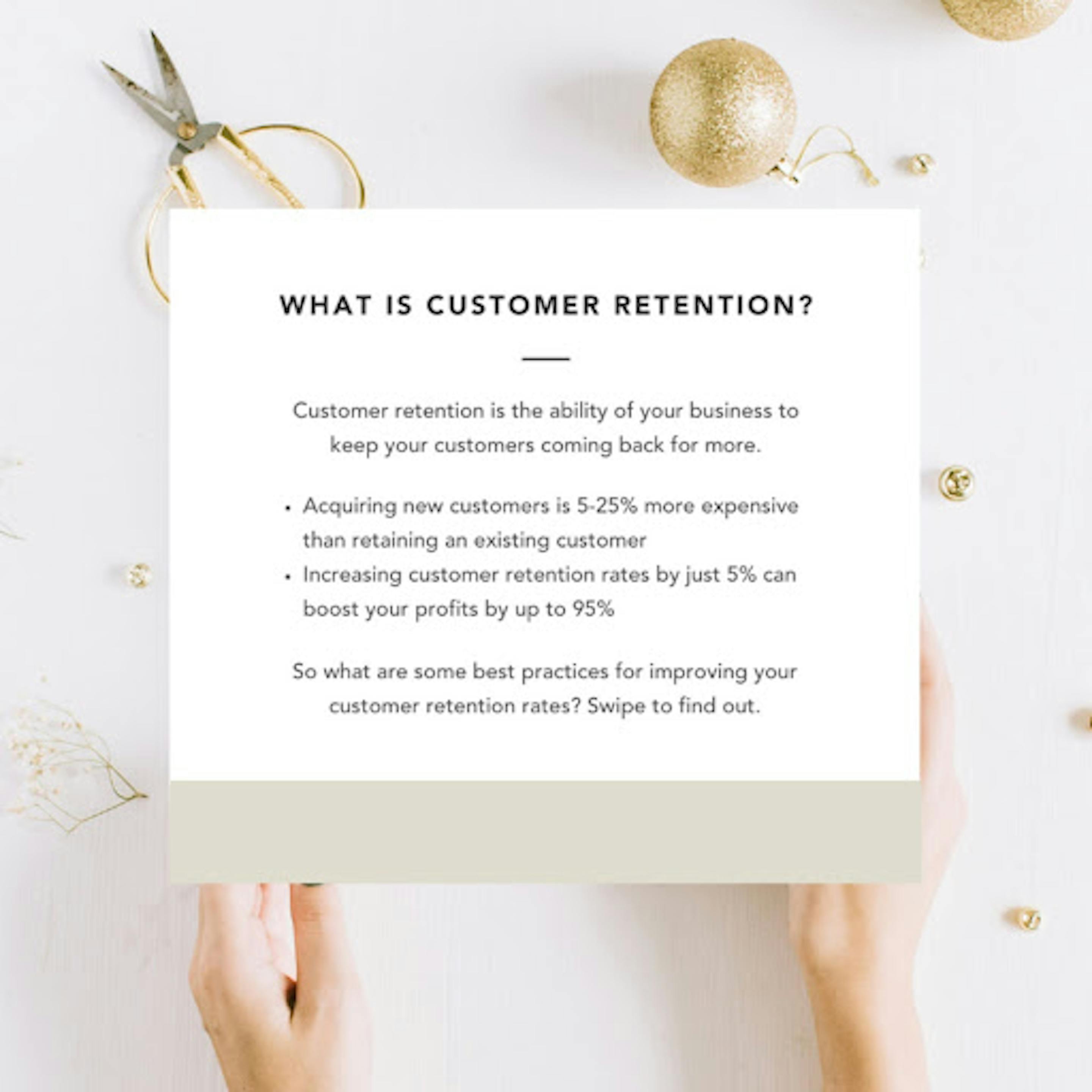 Customer Service
Whether you're eating at a restaurant or shopping online, you're more likely to remember any negative experiences compared to positive ones. While many services are being automated, there is still incredible value in human-to-human customer service.
One in three customers will actually pay more to receive a higher level of customer support. Additionally, 33% of Americans say they'll consider switching companies after just one instance of poor service.
Throughout BFCM and the holiday shopping season, make sure your customer service reps have the information and resources required to communicate clearly and effectively with potential customers about any shipping delays or service disruptions. Additionally, ensure that your e-commerce website has clear instructions for how to use your product, as well as a section for frequently asked questions (FAQs). Use your website to alleviate any customer concerns will make their purchasing decisions faster, easier, and more frictionless than ever.
Automated Email Campaigns
Customer service may focus on human interaction, but automated emails are low-hanging fruit for you to take advantage of. For any customers that make a purchase during the holiday season, you should already be sending emails to confirm their purchase and track their order. However, you can also use this opportunity to automate an email asking for a product review and any feedback about their experience. 
Then, you can include them in an email workflow to share your brand's story and recommend other products that they may like based on their past purchase. Plus, if you have a reward program in place, you can use personalized emails to show how many points they've earned, and what they need to reach their next reward milestone.
2021 Black Friday strategy in summary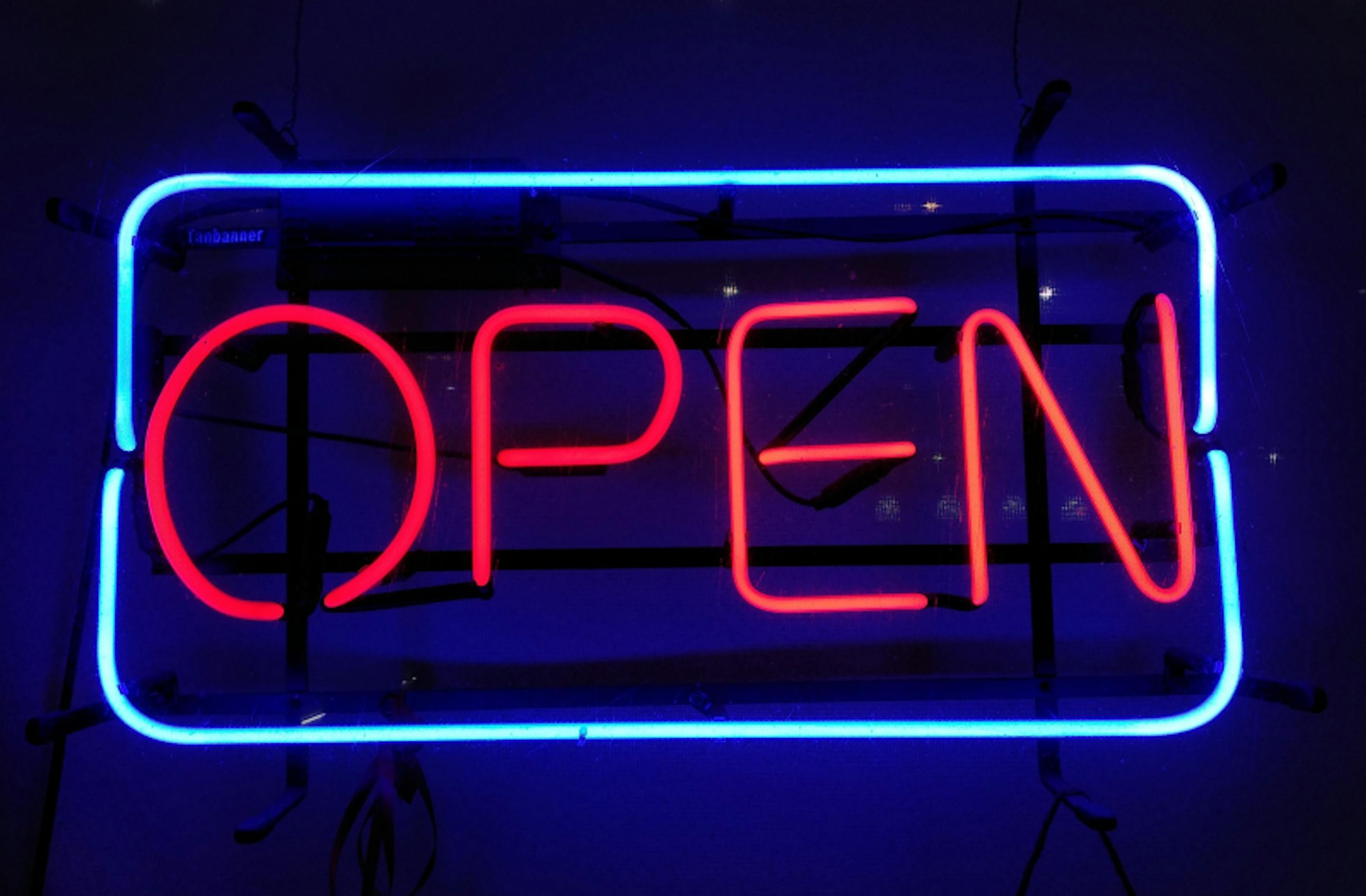 Like the year before it, 2022 is bound to be full of surprises. But as retailers, there are ways you can prepare for both the unexpected and expected BFCM roadblocks. They include:
On-point, seamless digital experiences that drive home the convenience of e-commerce
Well-managed inventory that keeps your stock at healthy levels
A mobile-centric approach to marketing that includes SMS communications
Implementing a smart BFCM advertising strategy to make sound decisions on increasing your ad spend
Loyalty programs that allow new and existing customers to splurge
Remember, preparing for the busy BFCM season is all about anticipating what your consumers are looking for and being able to provide it to them. 2020 and 2021 showed us what the e-commerce engine was capable of, and there's never been a better time to show the world what you've got.
As soon as this Black Friday season is over, it'll be time to think about how you're going to top this campaign next year. If this is your first BFCM: well done! You've just created a benchmark to shatter during next year's holiday season. 
Black Friday's over… Now what?!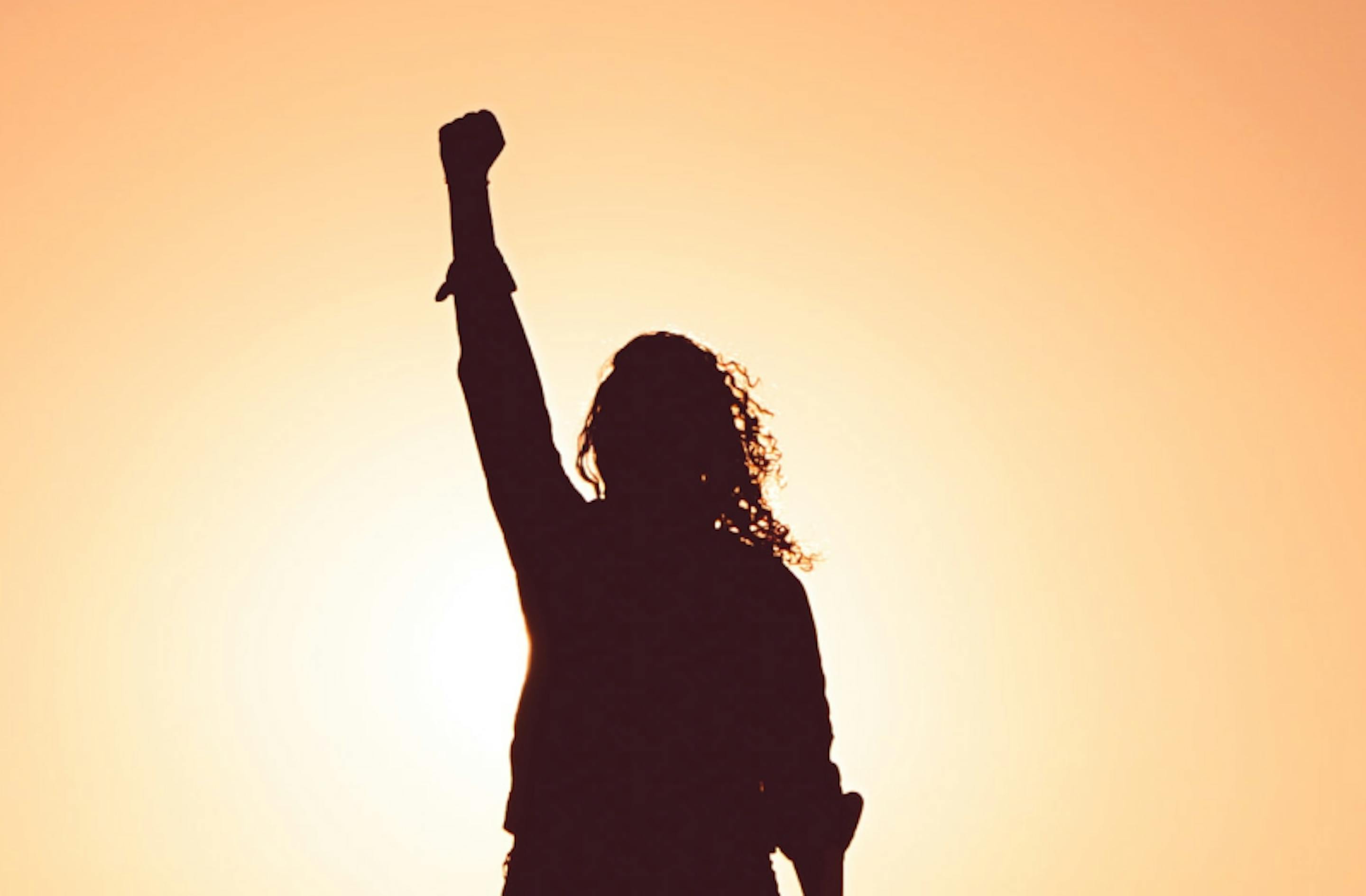 As you finalize your Black Friday strategy, don't forget to think about your long-term customer plan. As long as you focus on creating a positive customer experience and put in the effort to keep your shoppers in the loop, you can build lifelong relationships and retain hundreds of loyal repeat purchase customers.
Congratulations! You made it through BFCM. Most likely, the busy season will pass you by in a blur. After it's all over, don't forget to take a moment to debrief and reflect on how everything went. What went well? What not-so-well? And perhaps most importantly, what retention strategies can you employ to turn these newly earned customers into loyal, year-round ones? 
The Ultimate Guide to E-Commerce Funding
A founder's guide to D2C business funding
Get the Guide
The Clearco Newsletter
Sign up to get fresh content straight to your inbox!